From time to time it may become necessary to power cycle your system to clear error codes and ensure correct operation. This guide will help walk you through power cycling the various equipment at your home.
Step 1- Turning the solar off
First find the red toggle switch on the inverter. It will be found in between the top and bottom cabinets of the inverter on the left side. On the cabinet below the red toggle you will see the symbols "I" and "O". You will want to flip the toggle to the "O" position which will start powering the inverter down.
Wait about 3 minutes then turn the DC disconnect "OFF." The black dial will need to be flipped to the left.
Step 2: Turning the AC power off
Locate the solar breaker inside of your main service panel and turn that breaker off.
Your main service panel may look like this: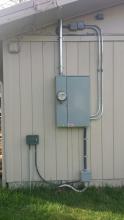 Please locate the "Solar breaker" that will typically be labeled similar to this:
Turn the solar breaker into the off position, this will be the opposite direction than the the rest of the breakers are facing in the main service panel. In the photo above, the breaker is in the "off" position.
Step 3: System off
Leave the system in the off position with both AC and DC (panels and main power) completely off for 10 minutes total. This time will help clear the error codes that are temporarily stored in the equipment.
Step 4: Powering the system back on
Refer back to step 2
Turn the AC solar breaker back into the "on" position, make sure it matches the direction of the rest of the breakers in the main service panel.
Refer back to step 1
Turn the DC switch back into the "on" position, or pointing to 12 o'clock.
Turn the red toggle switch back to the "I" position
Step 5: Verifying production
Allow 10 - 15 minutes before checking the inverter. If your inverter has no screen check the LED indicator wand located in between the cabinets of the inverter. If you see a solid green light then you are producing. You will also see a blue light signifying that your inverter is communicating to the portal.
If your inverter has a screen on it, short press the right most button to light up the screen. If you see a number below the "PAC" then you are producing.
Step 6: If the green light does not stay on
If you notice a red LED light or "error codes" on the screened inverter please document this and contact the service department where we will further assist you with your issue.