Inverters have very sensitive electrical measuring sensors inside of them and may occasionally sense electrical disturbances. These may not indicate actual electrical failures, but will prohibit the inverter from operation until cleared. This guide will help walk you through how to clear this error code.
Step 1- Turning the solar off
Please locate the switch that turns off the DC power from the roof. It will look something like this:
Turn this knob into the "off" position by turning it counter clockwise, or to the left.
Step 2: Turning the AC power off
Locate the solar breaker inside of your main service panel and turn that breaker off.
Your main service panel may look like this: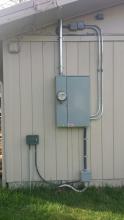 Please locate the "Solar breaker" that will typically be labeled similar to this:
Turn the solar breaker into the off position, this will be the opposite direction than the the rest of the breakers are facing in the main service panel. In the photo above, the breaker is in the "off" position.
Step 3: System off
Leave the system in the off position with both AC and DC (panels and main power) completely off for 2 minutes total. This time will help clear the error codes that are temporarily stored in the equipment.
Step 4: Powering the system back on
Repeat steps 1 and 2 above in the following order:
Turn the AC solar breaker back into the "on" position, make sure it matches the direction of the rest of the breakers in the main service panel.
Turn the DC switch back into the "on" position, or pointing to 12 o'clock.
Step 5: Clearing the error code
Watch the bottom of the inverter screen in the location where it previously said Arc fault detected, and after approximately 45 seconds this area of the screen will say: "Arc fault detected, confirm by tapping". At this point knock on the screen like you are knocking on a door. -Note: this only allows a very short time frame to confirm, please knock the moment you see this message displayed.
The inverter should then display "AFCI self test successful" and continue a normal wake-up cycle and begin making power within approximately 2 minutes.
Step 6: Verifying power production
Monitor the screen on the inverter to verify that the inverter has a solid green light and is showing wattage output. You can find these values here:
If you still notice any error codes or red lights, please document them both and contact the service department and we will further assist you with your issue.